bilal
2019-03-15T08:49:19+00:00
Maktab classes in South Africa are currently on leave for the first term end holidays. Classes will inshaAllah resume on Tuesday 02 April 2019.
Students should be encouraged to take out a little time everyday during the holidays to revise their latest Surahs, Duas, Ahaadith and at least half a page of their Qur-aan or Qaidah lessons.
---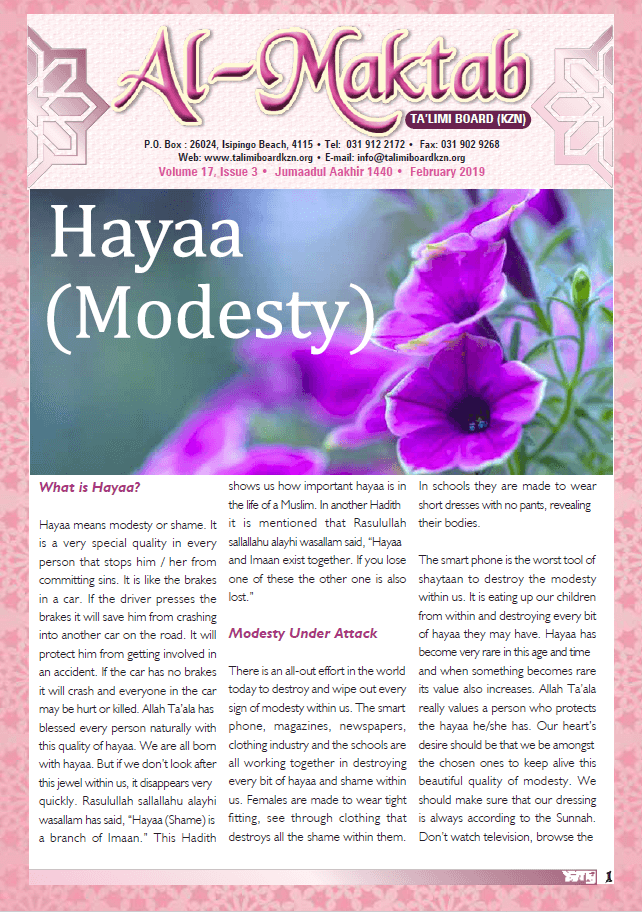 Latest Al-Maktab
Hayaa -Volume: 19 Issue: 3
>>>Click Here<<<
---
Updates
Surahs – Teacher and Students Audio. Check the Audio page.
New Kitaab Pricelist – Please take note of updated Kitaab Pricelist (Jan 2019) >>>click Here<<<
---
Quick Links:
Year Planner – Books – Kitaab Pricelist – Maktab Syllabus – Documents & Forms  – Bank Details – Muzaakarah Workshop
bilal
2019-03-15T08:49:19+00:00