IMAAN – SUNNAT – TARBIYAT – AKHLAAQ  – TA'LEEM – IBAADAT
(For mobile users, the website menu is the 3 Lines at the top below the Logo)
Yesterday (Friday 23 Sha'baan 1441) an Aalim told me that he saw Hazrat Moulana Yunus Patel Saahib (rahmatullahi alayh) in a dream. Hazrat Moulana said to him, "Tell the people to cry to Allah Ta'ala. I am also crying. Please pass my message to everyone that they should cry to Allah Ta'ala." [End of dream].
Allah Ta'ala says in the Qur-aan-e-Kareem,
[…]
by Hadhrat Shaikh Zakariyya (RA)
This Hadith was mentioned 1400 years by Rasulullah sallallahu alayhi wasallam. SubhanAllah! How apt are his mubaarak words that in this day and age it is so applicable to us all.
Hadhrat Ibne Abbaas (radhiyallahu anhuma) says […]
by Shaikhul Hadeeth, Hadhrat Moulana Muhammad Zakariyya (RA)
Allah Ta'ala says: "When my slave puts his trust in Me, I will find a way out for him, even if the skies and the earth were to join together against him." Ibnu Abbaas I says, "Allah Ta'ala sent wahi (revelatio […]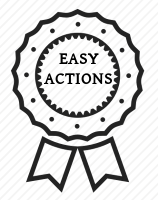 EASY ACTION WITH
GREAT REWARDS
المالك Al-Malik: The Ruler
Our beloved Rabb, Allah Ta'ala is the King of all kings and the Ruler over all rulers. Kings, presidents and ministers in this world are all under the rule of Allah Ta'ala. Allah Ta'ala rules the entire world, what we can see and what we cannot see. Kings and presidents only rule over their little countries and that too, they do not have total control over everyone and everything. They have no control over the fish, birds, ants, animals, etc. Allah Ta'ala rules over the entire creation, the humans, the animals, the birds and the fish. We need to obey Allah Ta'ala alone as He is the ruler in this world and in the hereafter.
Objectives of a Maktab
To teach the correct Aqeedah (Beliefs of a Muslim).
To teach the recitation of the Qur'aan Shareef with tajweed .
To practically teach the manner of wudhu, ghusal, salaah, and other ibaadaat.
To teach good manners and good character.
To instil the love of Allah Ta'ala, Nabi Muhammad Sallallahu Alayhi Wasallam , and the Sunnah in the hearts of the students.
Download Poster