IMAAN – SUNNAT – TARBIYAT – AKHLAAQ  – TA'LEEM – IBAADAT
Bismihi Ta'ala
At the beginning of the academic year, after the long vacation, a parent brought her child to a maktab on the first day of Madrasah and requested to meet her child's Apa. After chatting a while with the Apa, she mentioned to her, "I don't know what you have done to my child. We come from a fairly affluent background. My husband and I are both professionals and work late almost every day. In December, […]
Hadhrat Moulana Abdur Rahmaan Pani Patti (RA) used to teach at Madrasah Arabia in Pani Patt continuously from Fajr to Asr and at times right up to Maghrib. Occasionally he would get a chance to rest in the afternoon. He was an expert in every field of Deeni knowledge. Offers with higher salaries had […]
Hadhrat Mufti Mahmood Hasan Gangohi (RA) performed his first Haj in the year 1944. His luggage for Haj consisted of one pillowcase holding two sets of clothing, one lungi, two pieces of Ihraam and one lota. In one hand he held the pillowcase and in the other hand an umbrella. In this manner, he left for Haj. On the […]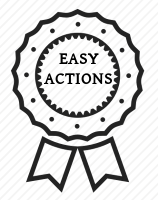 EASY ACTION WITH
GREAT REWARDS
"Allah" is the greatest name of our beloved Creator. The name "Allah" is exclusively only for Allah. No one else can have the name "Allah". The name "Allah" is so easy and light on the tongue, and so relaxing and pleasing to the heart. Let us try to always keep the beautiful name of "Allah" on our tongue and encourage our family and friends to do the same.
Objectives of a Maktab
To teach the correct Aqeedah (Beliefs of a Muslim).
To teach the recitation of the Qur'aan Shareef with tajweed .
To practically teach the manner of wudhu, ghusal, salaah, and other ibaadaat.
To teach good manners and good character.
To instil the love of Allah Ta'ala, Nabi Muhammad Sallallahu Alayhi Wasallam , and the Sunnah in the hearts of the students.
Download Poster