IMAAN – SUNNAT – TARBIYAT – AKHLAAQ  – TA'LEEM – IBAADAT
(For mobile users, the website menu is the 3 Lines at the top below the Logo)
Virtues
Rasulullah H has said: "Friday is the best of days. It was on this day that Hadhrat Aadam (alayhis salaam) was created, it was on this day that he was granted entry into Jannah, it was on this day that he was removed from Jannah (which became the cause for man's existence in this universe, and which is a great blessing), and the day of Qiyaamah will also take place on this day."
Rasulullah H said: "Friday is the "mother" of all days and the most virtuous in the sight of Alla […]
Once again we have come to that time of the year, the "SILLY SEASON" where people all over start behaving "SILLY". Crime is suddenly on the increase, people are celebrating with drugs and drink and one has to be extra careful on the road as there are many drunk drivers especially during this time of the year.
[…]
Bismihi Ta'ala
At the beginning of the academic year, after the long vacation, a parent brought her child to a maktab on the first day of Madrasah and requested to meet her child's Apa. After chatting a while with the Apa, she mentioned to her, "I don't know what you […]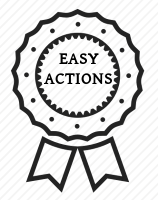 EASY ACTION WITH
GREAT REWARDS
المالك Al-Malik: The Ruler
Our beloved Rabb, Allah Ta'ala is the King of all kings and the Ruler over all rulers. Kings, presidents and ministers in this world are all under the rule of Allah Ta'ala. Allah Ta'ala rules the entire world, what we can see and what we cannot see. Kings and presidents only rule over their little countries and that too, they do not have total control over everyone and everything. They have no control over the fish, birds, ants, animals, etc. Allah Ta'ala rules over the entire creation, the humans, the animals, the birds and the fish. We need to obey Allah Ta'ala alone as He is the ruler in this world and in the hereafter.
Objectives of a Maktab
To teach the correct Aqeedah (Beliefs of a Muslim).
To teach the recitation of the Qur'aan Shareef with tajweed .
To practically teach the manner of wudhu, ghusal, salaah, and other ibaadaat.
To teach good manners and good character.
To instil the love of Allah Ta'ala, Nabi Muhammad Sallallahu Alayhi Wasallam , and the Sunnah in the hearts of the students.
Download Poster