IMAAN – SUNNAT – TARBIYAT – AKHLAAQ  – TA'LEEM – IBAADAT
(For mobile users, the website menu is the 3 Lines at the top below the Logo)
Written by: Shaikhul Hadeeth, Hadhrat Moulana Muhammad Zakariyya (RA)
Allah Ta'ala loves it tremendously when help is given to people in times of difficulties.  A Hadith says that Allah Ta'ala shows no mercy to those who do not show mercy to others.  Rasulullah H also said, "He who helps women with their problems, or helps the poor, is like that person who is busy in Jihaad." The narrator says he thinks […]
Introduction
Allah Ta'ala has afforded His servants certain selected opportunities whereby they may reap His infinite mercy and forgiveness. Some examples of these occasions are the month of Ramadhaan and Laylatul Qadr. The night of the 15th of Sha'baan is also one such opportunity. […]
Bismihi Ta'ala
Presently, due to the 21 day lockdown in South Africa, all schools and maktabs are closed. Children are not allowed to leave their homes to attend Madrasah. As a result of this no formal ta'leem is taking place in the maktabs.
[…]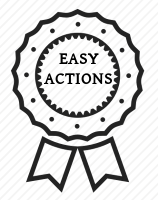 EASY ACTION WITH
GREAT REWARDS
المالك Al-Malik: The Ruler
Our beloved Rabb, Allah Ta'ala is the King of all kings and the Ruler over all rulers. Kings, presidents and ministers in this world are all under the rule of Allah Ta'ala. Allah Ta'ala rules the entire world, what we can see and what we cannot see. Kings and presidents only rule over their little countries and that too, they do not have total control over everyone and everything. They have no control over the fish, birds, ants, animals, etc. Allah Ta'ala rules over the entire creation, the humans, the animals, the birds and the fish. We need to obey Allah Ta'ala alone as He is the ruler in this world and in the hereafter.
Objectives of a Maktab
To teach the correct Aqeedah (Beliefs of a Muslim).
To teach the recitation of the Qur'aan Shareef with tajweed .
To practically teach the manner of wudhu, ghusal, salaah, and other ibaadaat.
To teach good manners and good character.
To instil the love of Allah Ta'ala, Nabi Muhammad Sallallahu Alayhi Wasallam , and the Sunnah in the hearts of the students.
Download Poster