IMAAN – SUNNAT – TARBIYAT – AKHLAAQ  – TA'LEEM – IBAADAT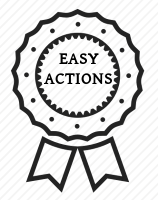 EASY ACTION WITH
GREAT REWARDS
المصور – Al Musowwir: The Fashioner / Designer
Allah Ta'ala alone fashions and shapes everything to perfection and full of beauty. When Allah Ta'ala created us, He created us with perfection. Allah Ta'ala did not give us a long giraffe neck or a small chicken leg or a long elephant nose or sharp crocodile teeth. Allah Ta'ala shaped us perfect and beautiful. No one can change us or improve on us. Allah Ta'ala alone fashions and shapes things as He wishes. Look and admire the creation of Allah Ta'ala and enjoy the beauty and perfection of His creation. This will bring alive in us the recognition and appreciation of our Allah.
Imaani Muzakarah
If I look after Allah's commands, Allah Ta'ala will look after me and will be with me
If I need anything, I must ask Allah Ta'ala alone and turn to Allah Ta'ala alone for help
The whole world cannot hurt me or help me without the permission of Allah Ta'ala
Allah Ta'ala created me, He owns me, feeds me and takes care of me
Objectives of a Maktab
To teach the correct Aqeedah (Beliefs of a Muslim).
To teach the recitation of the Qur'aan Shareef with tajweed .
To practically teach the manner of wudhu, ghusal, salaah, and other ibaadaat.
To teach good manners and good character.
To instil the love of Allah Ta'ala, Nabi Muhammad Sallallahu Alayhi Wasallam , and the Sunnah in the hearts of the students.
Download Poster