IMAAN – SUNNAT – TARBIYAT – AKHLAAQ  – TA'LEEM – IBAADAT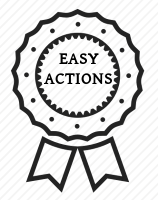 EASY ACTION WITH
GREAT REWARDS
العزيز – ​Al-Azeez​: The Mighty / The Strong
All might and strength belong to Allah Ta'ala alone. Nothing and no one can stand in front of Allah Ta'ala. If Allah Ta'ala wants, in one second He can crush the whole world. We are so small and weak, what will happen to us? Therefore, we should fear and obey ALLAH TA'ALA Who is Most Strong.
Objectives of a Maktab
To teach the correct Aqeedah (Beliefs of a Muslim).
To teach the recitation of the Qur'aan Shareef with tajweed .
To practically teach the manner of wudhu, ghusal, salaah, and other ibaadaat.
To teach good manners and good character.
To instil the love of Allah Ta'ala, Nabi Muhammad Sallallahu Alayhi Wasallam , and the Sunnah in the hearts of the students.
Download Poster