IMAAN – SUNNAT – TARBIYAT – AKHLAAQ  – TA'LEEM – IBAADAT
Bismihi Ta'ala
In this day and age, teaching little children in a primary makatb is not amongst the easiest of tasks. Teachers are faced with major challenges in the classroom. Often the Apa goes back home at the end of the day tired and dejected. The question tha […]
The Lifeblood of the Community………… It is an indisputable fact that the Ummah is currently passing through a phase of Jaahiliyyah (ignorance). The global onslaught upon the Ummah is on many fronts. However, the most dangerous and unfortunately the most effective is the silent battle that is waged on the hearts […]
By the break of the day. By the ten nights [S:89 V:1-2]
Commentary:
The Mufassireen (commentators of the Qur-aan-e-Kareem) are of the opinion that the ten nights upon which Allah Ta'ala has taken an oath in this Surah refer to the first ten days of Zul Hijjah. These ten d […]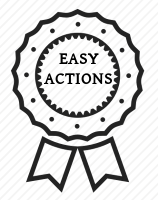 EASY ACTION WITH
GREAT REWARDS
ُاَلشَّكُوْر Ash Shakoor – Allah Ta'ala is Very Thankful / Very Appreciative
Our Allah Ta'ala is the Most Appreciative. He appreciates everything we do for Him. Even if we do a little for Allah Ta'ala, our Kind and Loving Allah Ta'ala appreciates it, becomes happy with us and gives us much, much more.
But when it comes to friends, even if we do everything for them, they do not appreciate what we do for them and are never happy with us. They always want more and more from us. It's so hard to keep everyone happy, but it is so easy to keep our One Allah Ta'ala happy.
So let us keep on doing only for Allah Ta'ala and spending only for Allah Ta'ala and He will always appreciate whatever we do for Him and in return will always give us much more.
Objectives of a Maktab
To teach the correct Aqeedah (Beliefs of a Muslim).
To teach the recitation of the Qur'aan Shareef with tajweed .
To practically teach the manner of wudhu, ghusal, salaah, and other ibaadaat.
To teach good manners and good character.
To instil the love of Allah Ta'ala, Nabi Muhammad Sallallahu Alayhi Wasallam , and the Sunnah in the hearts of the students.
Download Poster