IMAAN – SUNNAT – TARBIYAT – AKHLAAQ  – TA'LEEM – IBAADAT
(For mobile users, the website menu is the 3 Lines at the top below the Logo)
Bismihi Ta'ala
Presently, due to the 21 day lockdown in South Africa, all schools and maktabs are closed. Children are not allowed to leave their homes to attend Madrasah. As a result of this no formal ta'leem is taking place in the maktabs.
Due to such circumstances, many maktabs, by the grace of Allah Ta'ala, are continuing with the daily maktab ta'leem with the usage of the mobil […]
On Sunday 29 December 2019, 02 Jumaadus Saani 1441, the respected mother of our beloved Ustaaz, Hadhrat Mufti Ebrahim Salejee Saahib (daamat barakaatuhu) passed away in the early hours of the morning whilst she was asleep. May Allah Ta'ala make her maghfirat and grant her the highest stages in Jannatul Firdaus. Aamee […]
Virtues
Rasulullah Sallallahu Alayhi wa Sallam has said: "Friday is the best of days. It was on this day that Hadhrat Aadam (alayhis salaam) was created, it was on this day that he was granted entry into Jannah, it was on this day that he was removed from Jannah (which became the cause for man's existence in this universe, and which is […]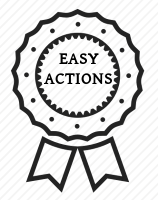 EASY ACTION WITH
GREAT REWARDS
اَلسَّلَامُ – As Salaam: The Giver of Peace
Who gives us peace? Only Allah Ta'ala gives us peace.
Money cannot buy peace. Holidays cannot give us peace. Allah Ta'ala alone gives us peace. A soft bed cannot give us a peaceful sleep. Allah Ta'ala alone gives us a peaceful sleep. When brother and sister fight or mother and father stop speaking to each other, then only Allah Ta'ala can make peace between them. The haraam T.V. and video games cannot bring peace in the home. Music cannot bring peace. Allah Ta'ala alone brings peace in our homes. Turn to Allah Ta'ala alone for peace.
Whenever you are worried and want peace read: يَا سَلَامُ (Ya-Salaamu) in abundance.
One Advice: As Muslims we have to always guard our tongues. No swearing! No teasing! No lying! Every word we speak is written down by the angels. We do not use a toothbrush to shine our shoes and then use the same toothbrush to brush our teeth. In the same way how can we use our tongues for dirty words and then the same tongues to take the pure name of Allah Ta'ala. Let us learn the lesson, "Think before we speak."
Objectives of a Maktab
To teach the correct Aqeedah (Beliefs of a Muslim).
To teach the recitation of the Qur'aan Shareef with tajweed .
To practically teach the manner of wudhu, ghusal, salaah, and other ibaadaat.
To teach good manners and good character.
To instil the love of Allah Ta'ala, Nabi Muhammad Sallallahu Alayhi Wasallam , and the Sunnah in the hearts of the students.
Download Poster