IMAAN – SUNNAT – TARBIYAT – AKHLAAQ  – TA'LEEM – IBAADAT
The Lifeblood of the Community………… It is an indisputable fact that the Ummah is currently passing through a phase of Jaahiliyyah (ignorance). The global onslaught upon the Ummah is on many fronts. However, the most dangerous and unfortunately the most effective is the silent battle that is waged on the hearts […]
By the break of the day. By the ten nights [S:89 V:1-2]
Commentary:
The Mufassireen (commentators of the Qur-aan-e-Kareem) are of the opinion that the ten nights upon which Allah Ta'ala has taken an oath in this Surah refer to the first ten days of Zul Hijjah. These ten d […]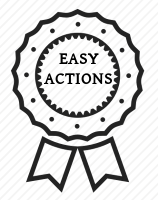 EASY ACTION WITH
GREAT REWARDS
الرزاق – Ar Razzaaiq: The Provider
Who feed us? Who feeds our parents? Who feeds the fish in the sea? Who feeds the birds in the sky? Who feeds the ants in the ground?
The fish are swimming and Allah Ta'ala is feeding them. They don't go to school and university. Allah ta'ala does not need schools and universities. The grade 12 metric certificate and the university degree does not give us food. Allah Ta'ala alone feeds us. The birds are flying in the sky. They don't have shops and jobs. Allah Ta'ala feeds them. Shops and jobs can't feed us. Allah Ta'ala alone feeds us. Allah Ta'ala knows how many potatoes we are going to eat and how much milk we are going to drink. No one can change it. Whatever we need, we should ask Allah Alone. Only Allah Ta'ala can provide us with our needs.
Objectives of a Maktab
To teach the correct Aqeedah (Beliefs of a Muslim).
To teach the recitation of the Qur'aan Shareef with tajweed .
To practically teach the manner of wudhu, ghusal, salaah, and other ibaadaat.
To teach good manners and good character.
To instil the love of Allah Ta'ala, Nabi Muhammad Sallallahu Alayhi Wasallam , and the Sunnah in the hearts of the students.
Download Poster