IMAAN – SUNNAT – TARBIYAT – AKHLAAQ  – TA'LEEM – IBAADAT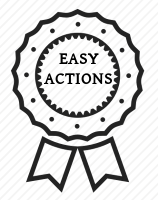 EASY ACTION WITH
GREAT REWARDS
الرحمان – Ar Rahmaan: The Most Compassionate
Our beloved Creator, Allah Ta'ala is full of kindness and gentleness, full of pity and sympathy. If anything happens to us, if we get hurt or we lose something, then our compassionate merciful Allah Ta'ala is always there for us. All we need to do is turn to Allah Ta'ala, have hope in Allah Ta'ala and don't ever forget our Allah. With the compassion and mercy of Allah Ta'ala, every difficulty becomes easy.
Objectives of a Maktab
To teach the correct Aqeedah (Beliefs of a Muslim).
To teach the recitation of the Qur'aan Shareef with tajweed .
To practically teach the manner of wudhu, ghusal, salaah, and other ibaadaat.
To teach good manners and good character.
To instil the love of Allah Ta'ala, Nabi Muhammad Sallallahu Alayhi Wasallam , and the Sunnah in the hearts of the students.
Download Poster